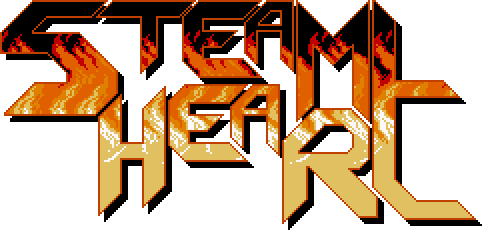 Steam Heart
A downloadable game for Windows
Game created for Ludum Dare 36.
Tribute to those classic Treasure games like Gunstar Heroes and Alien Solider. Long lost Mega Drive/Genesis game.
Install instructions
Unzip and open the exe.
Comments
Log in with itch.io to leave a comment.
Too bad the story isn't complete
However the fun is complete and I enjoyed this run n gun :D
The retro flair in this jam is unbelievable. :D I'm stunned by the whole design, but especially of the boss fights. It had some Sega Mega Drive vibes for me, but your graphics were so much better. <3 Thanks for that fun gaming experience, about which I happily wrote a short article as well as I uploaded a gameplay video of it. :) Keep up the great work!

Best wishes,
Sebastian
hey there i was playing your game its great nice cool game i showed it to my brother he was playing that game and beat it but however the game kept crashing so much on windows that i played the game on newsground :( i don't know why it keeps crashing on windows i have a decent good computer.